Overview:
UT200A+ and UT200B+ AC current digital clamp meters are suitable for daily repair and maintenance of household equipment, mainly used by
electricians; Featured minimum 3A AC current measurement, True RMS, LIVE test, and Audible/Visual alarm functions, they are good tools for
home users or DIY enthusiasts.
Features of UT200A+/UT200B+ Digital Clamp Meters:
Certificates: ROW
● True RMS
● AC/DC 600V voltage measurement
● AC 400A current measurement (UT200A+)
● AC 600A current measurement (UT200B+)
● Continuity/resistance/diode/high voltage frequency measurement (UT200A+)
● Continuity/resistance/capacitance/diode/high voltage frequency measurement (UT200B+)
● LIVE function & Flashlight
● Continuity and Diode, two-in-one
● 3000 counts
Specifications of UT200A+/UT200B+ Digital Clamp Meters:
Specification
Range
UT200A+
UT200B+
Current (ACA)
3.000A
±(4%+10)
±(4%+10)
30.00A
±(3%+5)
±(4%+5)
400.0A
±(3%+5)
–
600.0A
–
±(4%+5)
Voltage (ACV)
3.000V~600V
±(1.2%+5)
±(1.2%+5)
Frequency(Hz)
10H~10kHz
±(1.0%+5)
±(1.0%+5)
Voltage (DCV)
3.000V~300.0V
 ±(1.0%+5)
 ±(1.0%+5)
300.0V~600V
 ±(1.0%+3)
 ±(1.0%+3)
Resistance
300.0Ω~300.0kΩ
 ±(1.0%+5)
 ±(1.0%+5)
300.0kΩ~3.000MΩ
±(2.0%+5)
±(2.0%+5)
Capacitance
30.00nF~300.0nF
–
±(4%+10)
3.000μF~300.0μF
–
±(4%+5)
1.000mF
–
±(5%+10)
Features
Jaw size
 
28mm
28mm
Display count
 
3099
3099
Diode/Continuity
 
√
√
Auto range
 
√
√
High voltage warning
 
√
√
Hold/Backlight
 
√
√
Flashlight
 
√
√
Overvoltage category
 
CAT III 600V
CAT III 600V
Quality Assurance Period (QAP) Explanation
1.    The Quality Assurance Period (QAP) is an important aspect of our commitment to ensuring the quality and reliability of our products. We understand that customers rely on our goods to function properly and meet their expectations. To demonstrate our confidence in our offerings, we provide a warranty period during which we take responsibility for any quality issues that may arise.
2.    The length of the warranty period varies depending on the type of product. Generally, for consumable components subject to wear and tear, such as abrasion parts, the warranty period is three months. For smaller components, the warranty period is typically extended to six months. As for major equipment and machinery, we offer a one-year warranty period.
3.    We also recognize that each customer's requirements may differ, and we are open to negotiation regarding the warranty period. If the buyer requests a specific warranty duration that differs from our standard policy, we are willing to discuss and accommodate their needs accordingly.
4.    During the warranty period, we take full responsibility for any quality-related issues that arise. If a product is found to be defective or malfunctions due to manufacturing or material faults, we are committed to providing a resolution. This includes either replacing the faulty component or conducting necessary repairs to restore the product to its intended functionality. Our aim is to minimize any inconvenience caused to our customers and ensure their satisfaction.
5.    It is important to note that the warranty does not cover damages resulting from improper use, mishandling, or normal wear and tear. Additionally, if any modifications or repairs are carried out by unauthorized personnel during the warranty period, the warranty may become void.
6.    At our company, customer satisfaction is our top priority. We strive to provide high-quality products that meet and exceed expectations. The Quality Assurance Period serves as a testament to our commitment to delivering reliable solutions and ensuring that our customers have peace of mind when choosing our products.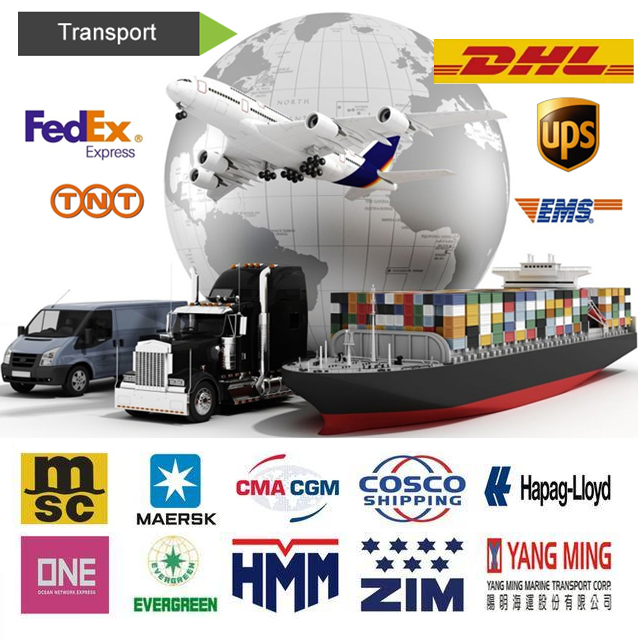 Transportation:
1.    We offer various trade methods, including EXW, FOB, CIF, DDU, DDP, etc., allowing customers to choose the most suitable option based on their requirements.
2.    We consider the proximity to the factory where the goods are located when selecting the appropriate port of departure.
Customers can provide the destination port where the consignee is located or choose a designated port for delivery.
3.    Our transportation methods encompass a wide range of options, including waterway transportation, air transportation, and courier services such as DHL, FedEx, EMS, UPS, TNT, etc.
For waterway transportation, we work with reputable shipping companies such as APL, CMA, CNC, COSCO, EMC, EVERGREEN, HMM, KMTC, MCC, MSC, MSK, ONE, SITC, YML, etc.
Air transportation is available through airlines such as (Air China): CA; (China Southern Airlines): CZ; (China Eastern Airlines): MU; (Garuda Indonesia): GA; (Cathay Pacific Airways): CX; (Cathay Dragon): KA; (Korean Air): (Japan Airlines): JL;  (Singapore Airlines): SQ; (Thai Airways International): TG, and more.
4.    The transportation time will vary depending on the destination and the chosen transportation method. We will communicate and confirm the estimated time of arrival with the customer prior to shipping.
5.    Shipping costs are influenced by factors such as transportation method, weight, size, and destination. We provide shipping cost estimation services to assist customers in budgeting.
6.    Once the goods are shipped, we offer order tracking services to provide customers with detailed information about the whereabouts of their shipment. Additionally, based on the selected trade method, we can arrange cargo insurance to provide compensation in the event of loss or damage during transportation.
7.    The specific transportation arrangements mentioned above will be coordinated by dedicated personnel, taking into account the actual situation and policies. We strive to tailor the optimal and most cost-effective shipping plan based on the information provided by the customer.
Please note that we are committed to ensuring the smooth transportation of goods and will work closely with customers to address any specific requirements or concerns they may have regarding transportation.